GB Electronics
now for something a little different...
At GB Guitars, we pride ourselves on being at the very cutting edge of bass electronics design and manufacture. Constant research and development ensures that GB stays at the very forefront of electronics created especially for bass guitars.
All of our electronics are developed and assembled in-house. Unlike other bass manufacturers, we don't use "off the shelf" pickups and preamps, as we don't believe they get the most out of our instruments. The GB bass processor and Q-Factor pickups provide you with a wider pallet of tones and sounds than in any other bass. Although we are confident that our standard electronics will cover all your needs, we can tailor them to suit your own individual, specific requirements; No one else offers this facility.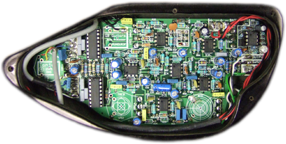 We believe that our preamp is the most technologically advanced onboard bass guitar preamp on the market. Combined with our specifically manufactured pickups, your ears will not deceive you. You will not have heard bass tones like those from a GB instrument before.
Take some time to explore our unique electronics packages by clicking through the links on the left menu.